Villa Regalo (Villa Regaro) is accommodation for private detached houses in Beppu city, Oita prefecture.
From the living room on the second floor you can see the Beppu Bay. Bathing is a natural hot spring sink.
As we can accommodate up to 13 people, it is recommended for multiple families.

Room
With private hot spring♨ 5LDK House full of detached houses where warmth of trees is nice
Price:We will change according to the day of the week, the season and so on. Please check at reservation site.
The guests13人 5Bedroom Bed12units 1Bathroom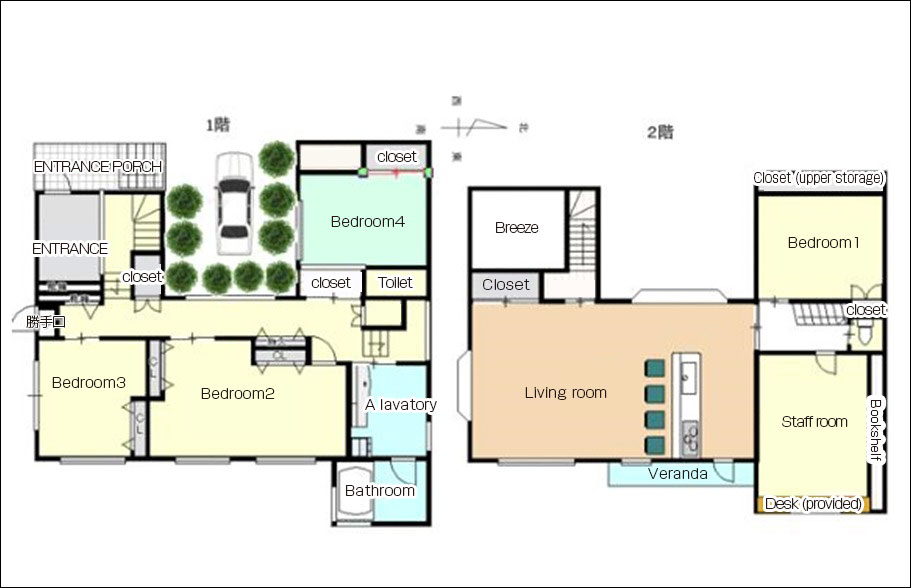 Facility
*In the kitchen, we have everything including dishes, seasonings and cooking utensils.
*There is a dryer / washing machine and it can be used for washing clothes.
*Bedding complete set, heating equipment and so on are included.
*All rooms in the hotel are non-smoking.
*In the room · Wifi · Kitchen tool · Washing machine · Refrigerator · Dryer · TV · Amenities are also available.
*Bathroom Facilities: Shampoo, Conditioner, Body Soap, Face Towel, Bath Towel
*Necessities : towels, sheets, soap, toilet paper
*Basic : Air conditioner / heating(Indoor with central heating and heating equipment)・ Iron / notebook PC-oriented workspace (table and desk where laptop can be placed + chair that can comfortably work) · Pocket WiFi · TV · Washing machine (free)
*Family Equipment: Bathtub / blackout curtain
* Meal : Crockery · cutlery · kitchen (space where guests can cook) · microwave · refrigerator · stove
*Bedding : Bath supplies: sheets / hair dryer / hanger / shampoo
* Safety equipment : Fire extinguisher · carbon monoxide warning machine · smoke sensor
Area information
Convenience store, supermarket
Seven-Eleven 8 minutes on foot/supermarket(open 24 hours) 8 minutes on foot
Nearby restaurants
KAMIN 4 minutes on foot / Financier Etoile 4 minutes on foot / Cafe CIRCLE 6 minutes on foot / MINEKYUU 8 minutes on foot / MEN'sCLUB MENGEN 8 minutes on foot / KAMESEI 10 minutes by car
Recommended spots
Beppu Seaside Sand
8:30-18:00(From March to November)、9:00-17:00(From December to February)
A famous hot spring located in Kamigahama Park, by the sea.
Sand water separated into a width meter and a length of 20 meters is kept at 42 degrees all the time, changing to a special yukata robe and lying down there, after that the sandclaws well sand it.
Let's enjoy the unique warmth of sand for 10 minutes while watching the ocean.I feel comfortable with both mind and body when I leave the sand.
Beautiful sea in front of you! Let's enjoy warmth of sand
AKEGAWWARA YUNOSATO
10:00 – 21:00 / Price:600yen
Time to popular spot
Bouzujigoku5 minutes by car/ Umijigoku- 7 minutes by car/ Beppu Tower-20 minutes by car/ Beppu Park-16分16 minutes by car/ African safari-22 minutes by car/
Reservation of accommodation
CHECK IN : 4:00PM~ CHECK OUT : 11:00AM
For those who wish to book accommodation
【Airbnb】
or
【booking.com】
Please apply from the dedicated site.
Questions about people's night and holding events, etc. Inquiries on other cases
「
Contact form
」 Please contact us
※ Early check-in and late check-out are basically refused, but we may be able to respond, so please consult us.
※ We will charge a fee if checkout is delayed and cleaning and next check-in is hindered.
※ Long stay OK: We can stay over 28 nights

6 years and under: free
Children are welcome.
However, please be prepared by yourself because there is no bed of no charge, beds, towels and linen available.

Access
〒874-0842 Beppu City Oita Prefecture Ogura Daiji Tsurumi Kokura 1665-144 (1-2)
19 minutes by car from Beppu Station
5 minutes by car from Higashi Kyushu Expressway Beppu IC
46 minutes by car from Oita Airport
Accommodation of a large number in the room of 5 LDK is possible. There is convenience store near, and shopping is very convenient.
We will arrive at Beppu Tetsuza Onsen town in about 10 minutes by car.
※ There is one parking lot on the premises, absolutely please do not park on the street in front of the building.
( We have a second parking lot which can park multiple cars in the place about 4 minutes on foot from our building.)